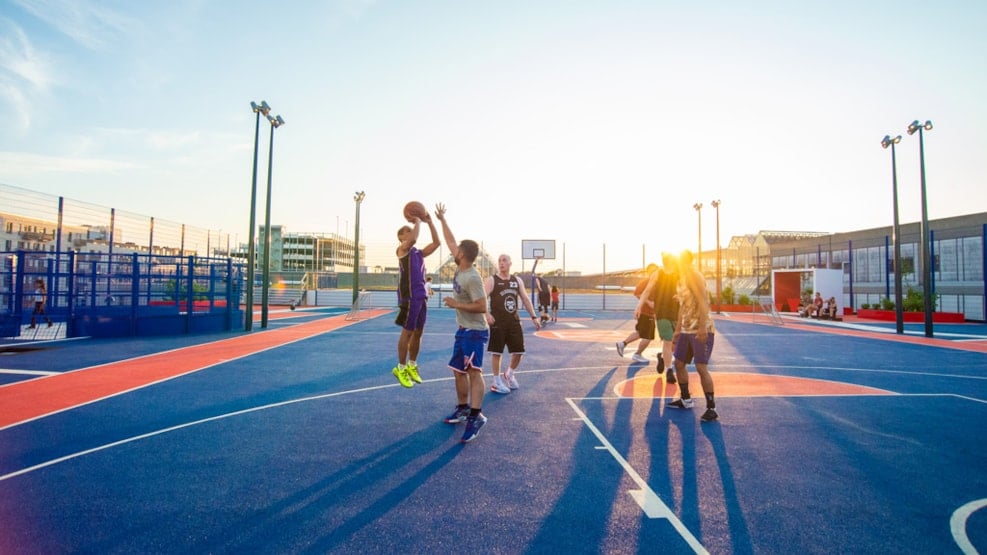 Aktivitetstaget Bella
Public recreational rooftop in Copenhagen's Ørestad neighbourhood. Aktivitetstaget Bella.
On a coloured top of a building, you can work out, hang out or play sports like basketball, football, running, balancing games and take the 16-meter-long curved slide down to a playground and green area. This characteristic urban spot opened in the summer of 2020 and is one of many new initiatives popping up in the small urban district of Bellakvarter benefiting locals, visitors and commuters.
Bellakvarter is an integral part of Copenhagen's Ørestad neighbourhood. A neighbourhood just some 20 years old and still in the making. Ørestad is in many ways unique with its mix of wild nature and new, groundbreaking architecture. It's still a new neighbourhood and has a local vibe to it. You'll get the sense of exploring a bit off the beaten track as soon as you get off the metro just a few minutes from Copenhagen's city centre.
The vision of the urban district Bellakvarter is to create a neighbourhood that combines the traditional everyday city life of Copenhagen with the international activities of Bella Center Copenhagen - one of the city's largest congress-, conference- and exhibition centres.
Aktivitetstaget Bella is designed by the architecture firm Elverdal. Read more about the project.