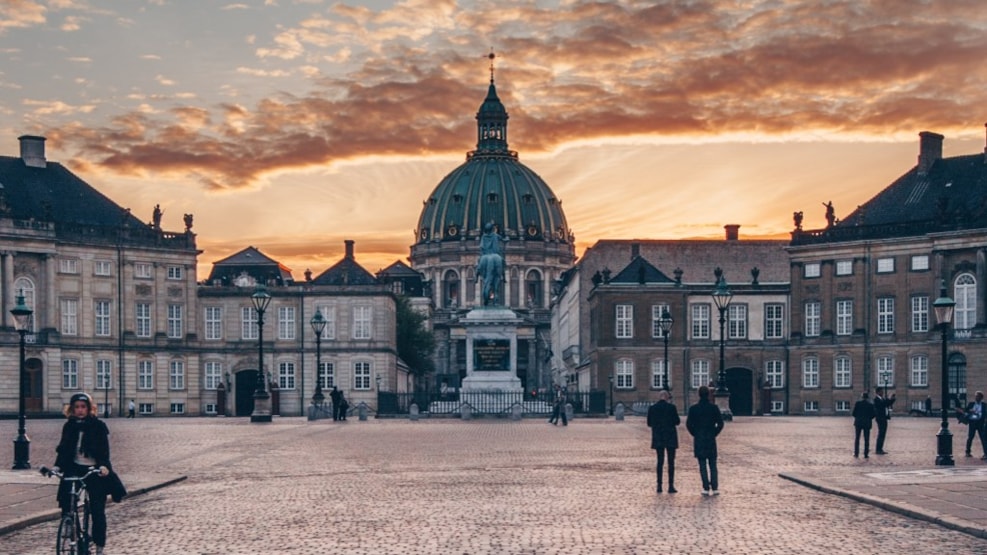 Amalienborg Palace
Take a peek behind the scenes of the Danish Royal Family.
At Amalienborg Palace in the heart of Copenhagen, you can visit the seat of one of the world's oldest monarchies and go behind the scenes in a real royal palace. The palace is a must for anyone with a taste for royal history. Don't miss the palace square where you can watch the unforgettable changing of the guards.   
The Changing of The Royal Guard
Amalienborg is famous for its royal guard, known as The Royal Life Guard. Every day, you can watch the changing of the guards as they march from their barracks by Rosenborg Castle through the streets of Copenhagen to Amalienborg, often accompanied by music. The changing of the guard takes place at noon.
Amalienborg is made up of four identical buildings. These are Christian VII's Palace (also known as Moltke's Palace, used as a guest residence), Frederik VIII's Palace (also known as Brockdorff's Palace, home of the Crown Prince family), Christian IX's Palace (also known as Schack's Palace, home of the Queen) and Christian VIII's Palace (also known as Levetzau's Palace, used as a guest palace for Prince Joachim and Princess Benedikte). It's in this building you'll find Amalienborg Museum.
Amalienborg Museum 
A visit to Amalienborg Museum gives you access to the private interiors of the most recent kings and queens along with an exhibit on the monarchy today with its many traditions. It's a behind-the-scenes trip sure to delight any royal fans. 
The scope of the museum stretches back 150 years to Christian IX and Queen Louise, who were known as "the in-laws of Europe" because four of their children ascended to the thrones of England, Greece, Russia, and Denmark.
Royal history comes to life
The rooms of Christian IX, Queen Louise, and their descendants are still intact, so a visit is like a journey through time. Each room reflects the modern taste of its period and the personalities of the kings and queens, whether it is in military, Victorian, or knightly style.
TRAVEL TIP: With a Copenhagen Card in hand you get free admission to Amalienborg and over 80 attractions as well as free public transportation in the whole capital region. 
The large garden room offers an insight into modern royal life and the monarchy in the 21st century. Royal life entails many duties and traditions, and there are plenty of opportunities to explore them and gain an understanding of what it means to be royal today.
On most days, there is admittance to the Gala Hall and the other magnificent rooms on the Piano Nobile. The royal reception rooms are still used by the royal family for representative purposes.