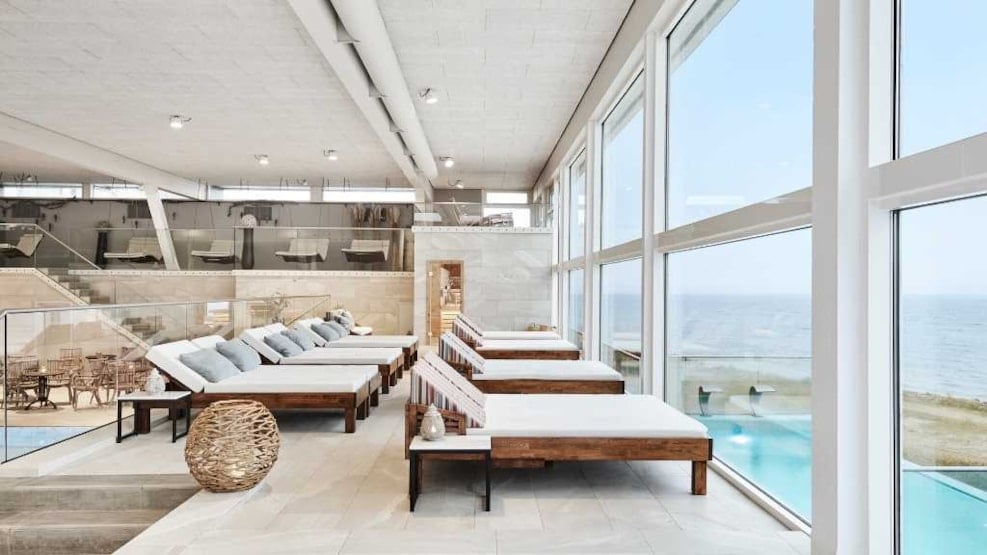 sustainable_experience
Beach Hotel Marienlyst
Beach Hotel Marienlyst is located right by Oresund. Here, you can spend the night in exclusive rooms, enjoy local food in the restaurant and relax in the faultlessly elegant beach spa.
Life is even better at the edge of the Sound
See the lights in Helsingborg and Elsinore before going to bed. Wake up to a dead calm Oresund or big, roaring waves. Enjoy food with inspiration from the beach, the sea and the forest – sustainable and local. And relax in the turquoise blue infinity pool with Kronborg Castle in the background or feel the sand under your feet on your way to the beach sauna.
Rooms in beach hotel style
Beach Hotel Marienlyst has 227 rooms in several categories so you can find one matching your needs. Here, you find everything from single rooms and double rooms to large suites with sea views.   
View the rooms at the Beach Hotel Marienlyst.
thought-through beach spa
It took two years to develop Marienlyst Beach Spa and the focus is on the classic spa and ancient bathing traditions. The result is a luxurious spa of 1,600kvm with 10 customized spa treatments. Let yourself be spoiled with a day spa or a spa stay where you, among other things, can enjoy salt therapy, a beach spa, and a bath.

Taste the beach, the sea, and the forest
Beach Hotel Marienlyst offers a genuine taste experience and sensation inspired by the beach, the sea, and the forest in the restaurant, bar, and brasserie. In Restaurant 1861, the Nordic and French cuisine meet with a high with et high level of ambition and sustainable products. In Restaurant Marienlyst they have a breakfast buffet. Here, you can also have lunch and dinner. In Dekant Wine Bar and Nordlyst Brasserie and Bar you can enjoy carefully selected wines and cocktails.
Beach hotel since 1861 
The story of Beach Hotel Marienlyst includes 155 years of non-stop hotel-keeping, royal regulars and a fantastic view over Oresund, Sweden and Kronborg Castle. In Northern Zealand, Beach Hotel Marienlyst is a symbol of the good life, a stylish bathing holiday and cultural enjoyment.
When you spend the night at the hotel, you have free access to Marienlyst Beach Spa and to Casino Marienlyst. Moreover, there is free WiFi all over the hotel, and free parking at the hotel's parking area.
Close to all the good experiences
A 10-minute walk from the hotel along the promenade and you reach the world-famous M/S Maritime Museum of Denmark, Kronborg Castle and Elsinore's historical town center.