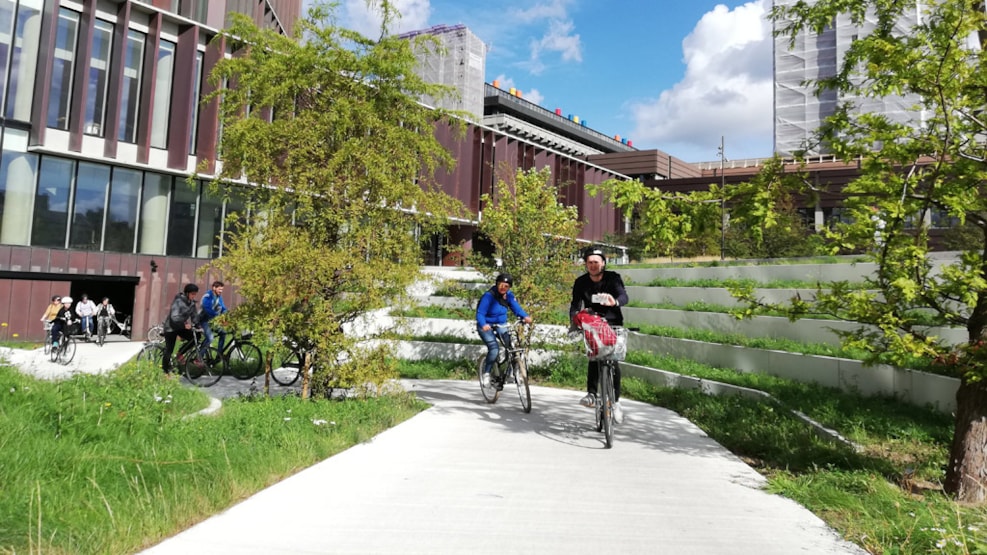 beCopenhagen guided architecture tours
Urbanism and architecture bike tours plus an extensive range of bikes to rent for all th family.
BeCopenhagen offers downtown bike rental and guided cycling tours focused on urban life, architecture, cycling culture, and more. If you've wondered why Copenhagen is one of the world's premier cycling cities, or want to know more about urban development and architecture, why not discover more about it on two wheels?
Guided cycling city tours
Copenhagen offers guided bike tours with a focus on present-day urban life, public spaces, architecture, and of course, cycling culture.
Copenhagen's guides are professionals within architecture and urban living. Pedal along with them as they take you cycling on their favorite bike paths and show you special places off the beaten track. Using urban spaces and buildings as a lens, the well-informed guides present you with their insight into the culture, community, mindset, and lifestyle of Copenhagen.
Copenhagen also arranges tailor-made tours and events for smaller or bigger private or business groups, family trips, study tours, or whatever needs you to have.
The tours will be on Copenhagen's Danish bikes from the quality brand Winter, or the special design bikes, the foldable STRiDA. Tours and bikes are suitable from age 12, and children age 12-15 join for half price on all tours.
Bike rental
You find beCopenhagen just off of Strøget from where you can rent Danish design quality bikes in all different sizes including city bikes, children's bikes, bikes with children's seats, electric bikes, and Christiania cargo bikes. And the foldable STRiDA bike, which is ideal for day trips by train or bus, as you can easily bring it everywhere.