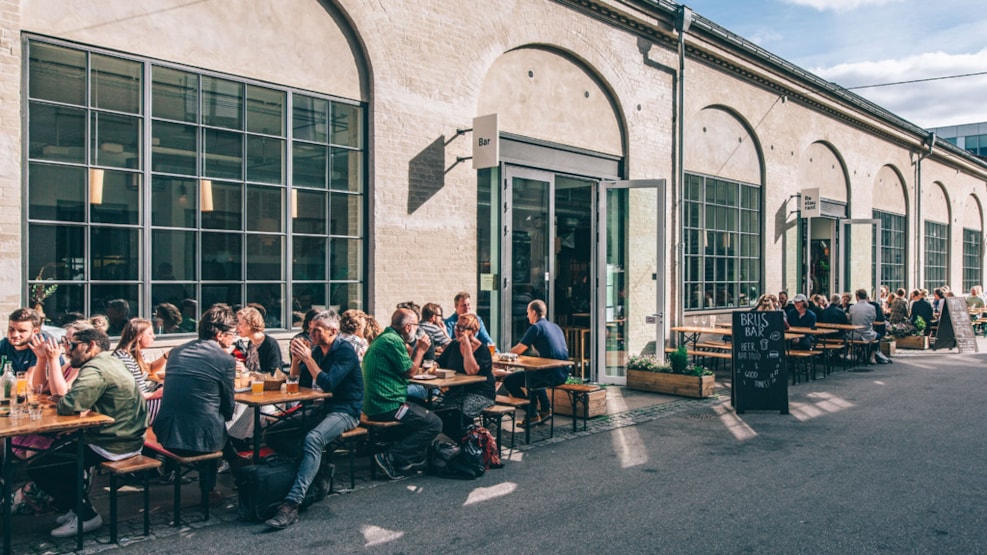 BRUS
Hip local Nørrebro brewpub, BRUS, is not only for beer-lovers.
In many ways, BRUS is what you would expect of a new Nørrebro hotspot. Complete with a brewery, a large and really good looking bar, an ambitious and experimental restaurant and a shop, the brewpub caters for all needs of the hip local crowds.
Take a seat in the bar with a quality brew (or more), or in the restaurant which is operated by the talented Christian Gadient - Denmark's youngest Michelin chef. Whether you go to quench your thirst or bury your hunger, BRUS manages to surprise you. With 30+ craft beer and kegged cocktails on tap, you are guaranteed to try something new.
One of the first things one notices when entering the 750 m2 former factory, is the large oak barrels, fermentation tanks and state-of-the-art brewing facilities. Here, the brewery is constantly experimenting with new beer flavours and soft drinks to surprise and please beer geeks and any other guests in this cool establishment.
The brewery behind it all is To Øl – world-renowned among beer enthusiasts was founded by two young locals who used to attend the high school across the street. After hours, they brewed beer at the school as apprentices of Mikkel Borg Bjergsø – then teacher and now craft beer legend under the name Mikkeller.
This summer 2018, you can also watch the football World Cup at Brus. They are showing all games and offering a VM Combo of burgers, fries and a bottled "sports brew" at a reduced price. See more on their Facebook site.