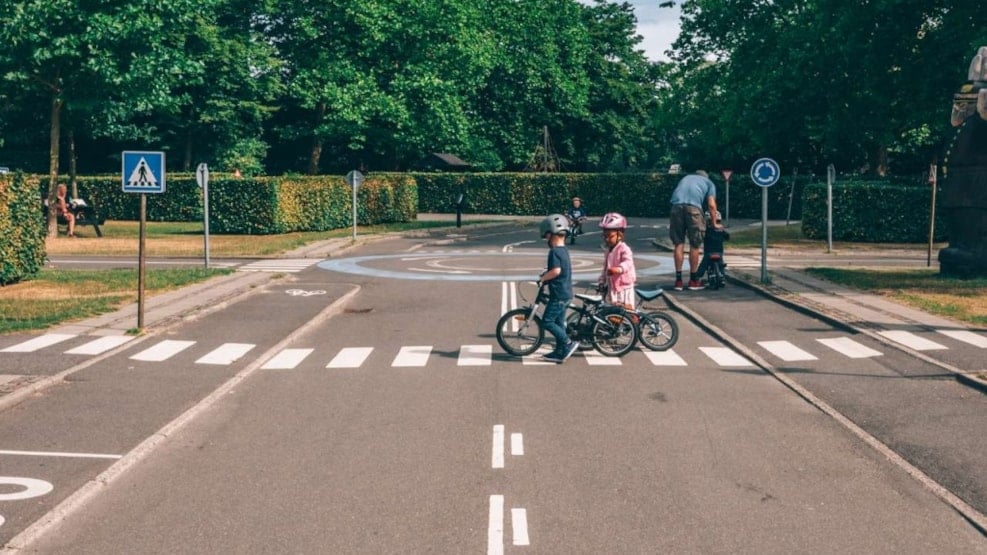 Children's Traffic Playground
Children's playground themed around cycling.
Copenhagen is a city designed for cyclists. It is also one of the best places in the world to be a parent. So naturally it has a playground for junior cyclists where they can learn about road safety.
Located in Fælledparken, the playground features traffic lights, road signs, road markers, bike paths, petrol stations, and much more. Children can have a go at a pedal or running bicycle, while the smaller kids can try three-wheeled bikes at their own mini-course. Rental bikes and helmets are free of charge for children between 2 and 8 years old (max 130 cm), but if the kids are more than 130 cm tall, they're more than welcome to bring their own vehicles.
Learn to cycle at The Children's Traffic Playground
The staff at The Children's Traffic Playground can help teach children how to cycle as well as give guidance on buying a new bicycle. You can also use the playground's open workshop to work on your bike and get help repairing it.
Due to safety reasons, motor-driven vehicles are not allowed at the playground – it is a safe learning place for children getting ready to cycl in real traffic. The same goes for three-wheeled adult bikes (Christiania bikes), but you're welcome to park your bike in the playground's many parking spots.
Besides the bike routes, there's also a playground with a slide, sandbox, swings, jungle gym and an open shed where you can enjoy your lunch as well as toilets. You can easily spend an entire day hanging out at The Children's Traffic Playground.
Opening hours:
Summer season (March-October)
Mon-Fri: 9-17
Every third Saturday and Sunday: 10-17
Winter season (November-February)
Mon-Fri: 9-16