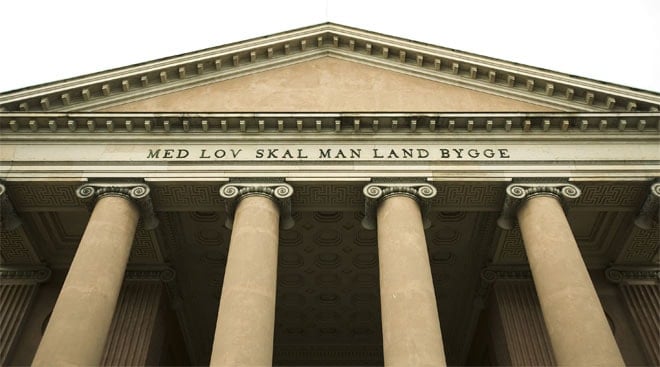 The City Court of Copenhagen
The City Court of Copenhagen is the largest out of 24 city courts, and it serves a big part of Copenhagen Municipality as well as Dragør and Tårnby Municipality.

In the tv series Broen (The Bridge) the City Court is used for a trial against a policeman who allegedly abused a man to death.

The neoclassical courthouse is designed by Danish professor and architect C.F. Hansen. He's also the man behind Church of our Saviour, Christiansborg Slotskirke and the Metropolitan School at Frue Plads.

Above the columns facing Nytorv, you can see the inscription "Med lov skal man land bygge" ("With Law the Country shall be built"), which is a quote from the introduction to Valdemar the Victorious' Jutlandic Law from 1241.

Protected buildings

The current courthouse was built between 1805 and 1815. The long period is due to the British bombings in 1807, which delayed the construction.

There has been several restorations. However, the buildings are now protected.
Visit the court's canteen
Every day from 11:30 to 13:00, the court's canteen is open for public.