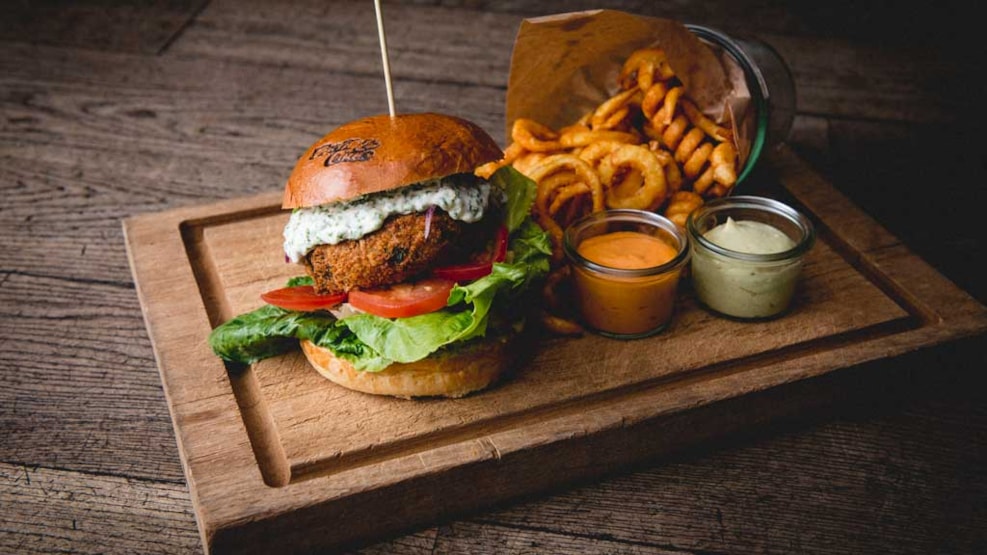 Cocks & Cows SP34
Cocks & Cows SP34 offers quality burgers that have been awarded the title of 'Best Burger in the City' four times. 

Do you LOVE burgers? Then Cocks & Cows is the place for you. When you step inside the restaurant in Copenhagen's old Latin Quarter, you'll get the feeling of visiting a true American diner, but with a Scandinavian twist.
Here, you can spoil your taste buds with various kinds of burgers and sides. Try the traditional Cheese'n'Smoke, or go for the almighty Governator if you feel like doubling up on your proteins. They have, of course, got the vegetarians and vegans covered as well with tasty veggie patties.
Cocks & Cow only serve meat from free-range farms, and the veggies are 100% organic.

Cocktails on the rooftop

In case you get thirsty, Cocks & Cows also know how to pour a good drink. Head for the restaurant bar, or go relax on the rooftop, where you can sip your cocktail in an intimate oasis in the middle of buzzing Copenhagen.
You can also find Cocks & Cows in other Copenhagen locations: Gammel Strand, Ravnsborggade, Prags Blvd., The Meatpacking District and Tivoli Food Hall.