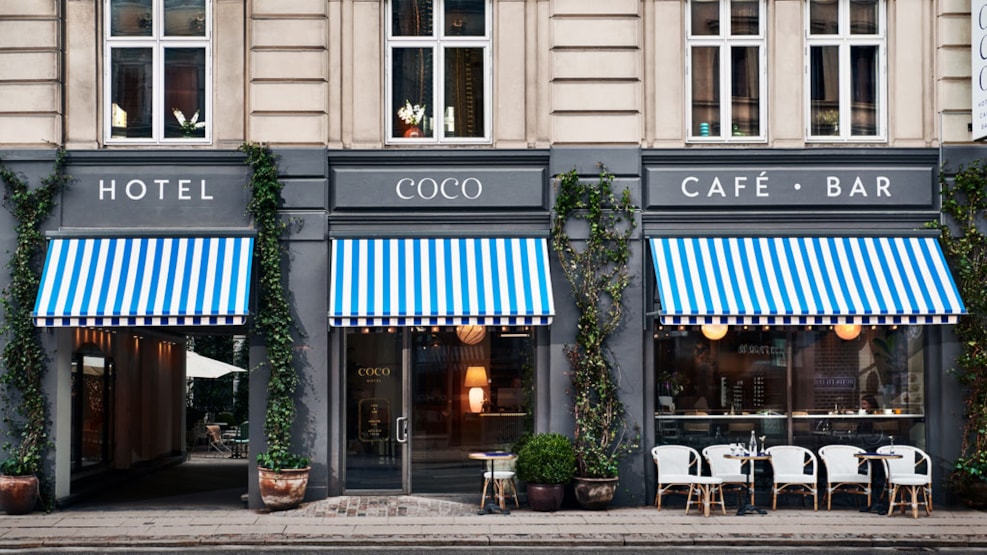 sustainable_experience
Coco Hotel
The charming boutique hotel in Copenhagen's buzzing Vesterbro area is the first hotel by the popular restaurant group cofoco who runs a selection of popular value-for-money restaurants, Cofoco.
With French charm as you enter the elegant lobby doubling as a cute café, the sense of vacation gets to you. This is a place to unwind and enjoy a good time. Whether you're eating in the restaurant, in the lush courtyard or relaxing in one of the 90 individually decorated rooms.
The interior is a mix of classic Parisian furniture, custom-made Danish design and vintage put together with a colourful finish and with playful touch. Coco is not posh, but it's cool and down to earth.
A sustainable focus – just like at the restaurants
Like Cofoco's restaurants, Coco Hotel is covered with energy from Cofoco's own solar plant. Besides, the hotel offer primarily organic products in the café, and plastic bottles in the minibar do not exist. All towels and linens are organic cotton too and the entire building was renovated in 2019 with energy and water saving solutions. Also, Cofoco plant a tree for every guest booking accommodation through their website.
Get a discount at Cofoco's restaurants
Guests staying at the Coco Hotel get the opportunity to enjoy the restaurants owned by Cofoco at favourable prices. Cofoco restaurants are diverse, spread all over Copenhagen and all high quality at reasonable prices.