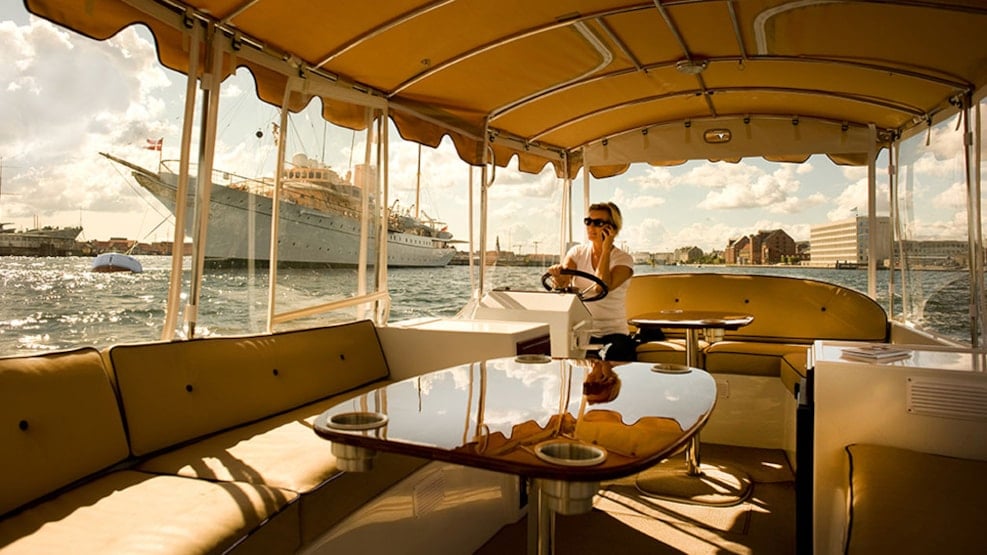 Duffy Boat Rental
Silent green sailing in a Californian boat with your own captain. 
Fill your boat with family and friends, and see Copenhagen harbour and canals in a Duffy water limousine with your own captain. The super comfortable electric boats offer an elevated cruise experience.
Lean back and relax as Duffy's captain takes you on a tour around Copenhagen's waters. All Duffy boats come with a captain and offer an unforgettable limousine-style experience on the water.
Take a picnic on the water
The boats are silent, stable and require no license to sail. They are equipped with the latest technology, electric and eco-friendly with a comfortable cabin. The boats are equipped with sofas and two tables, so you can bring your own picnic basket or ask the Duffy crew to prepare one for you. The smallest boats can accommodate eight people, and the biggest 11 people, plus the captain.
Duffy boats are hand-built and produced in California. In 2014, Duffy Boats received an award for producing the world's best electric boats. 
Duffy boat rental also arranges scheduled tours for individuals. Note that Duffy is open from April 18th until September 30th.