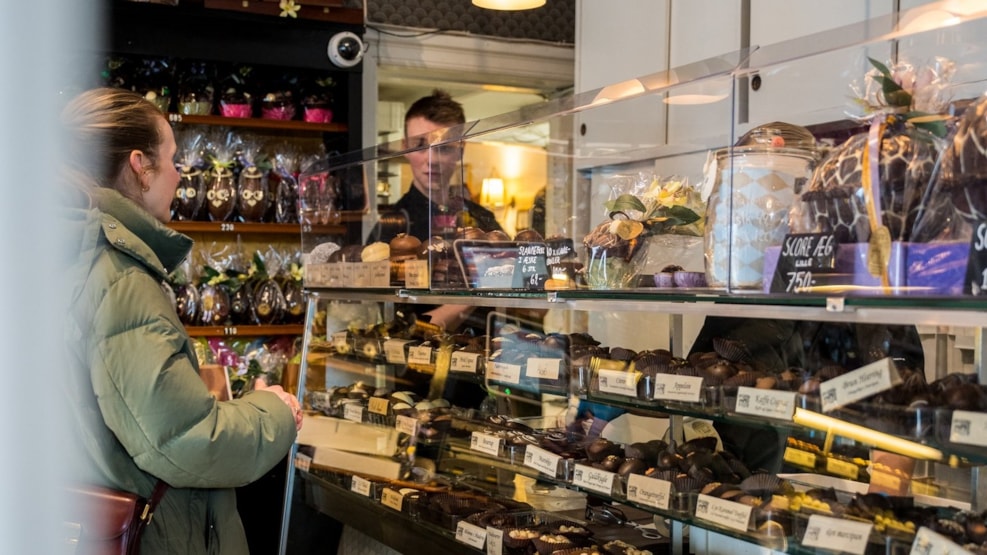 Frederiksberg Chokolade
Tantalize your tastebuds with specialty chocolates and ice cream that prioritize high-quality produce and sustainable methods.


Chocolate heaven since 1923
Frederiksberg Chocolade is an independent chocolate and ice cream shop that prides itself on old-fashioned principles, favouring high quality over mass production. This sense of tradition runs throughout the shop with beautiful displays of the produce. You'll find the Danish classics including marzipan and nougat as well as hazelnut croquette and candied violets. The store has been run by Tina Wilstrup since 1996 when she had the opportunity to take over the store which has been in existence since 1923.
Sustainably sourced, ethically produced
Tina has been sure to embrace sustainable and ethical practices. The chocolate is sourced from a plantation in Colombia bought by Tina herself so that she can ensure that all workers are treated fairly, and sustainable farming practices are implemented. You can even support this project by buying your own cocoa tree with its name and number to give as a gift together with a box of chocolates.
In the milder months of the year, you can choose from a remarkable selection of ice-cream, where a new ice-cream is added to the menu daily. Flavours are both classic and bizarre, known to include some as left field as beer and as homely as apple pie. Of course, you can choose to pour melted chocolate over your ice-cream cone which hardens on impact to make a luxurious treat.
Catering to all tastes you'll find dairy and non-dairy frozen treats, or even low-fat and sugar-free varieties. Furthermore, all products are organic. If you are wondering towards the Frederiksberg Gardens stop off for a frozen treat in summer, or a warming hot chocolate in the winter, and delicious chocolates any time of year.