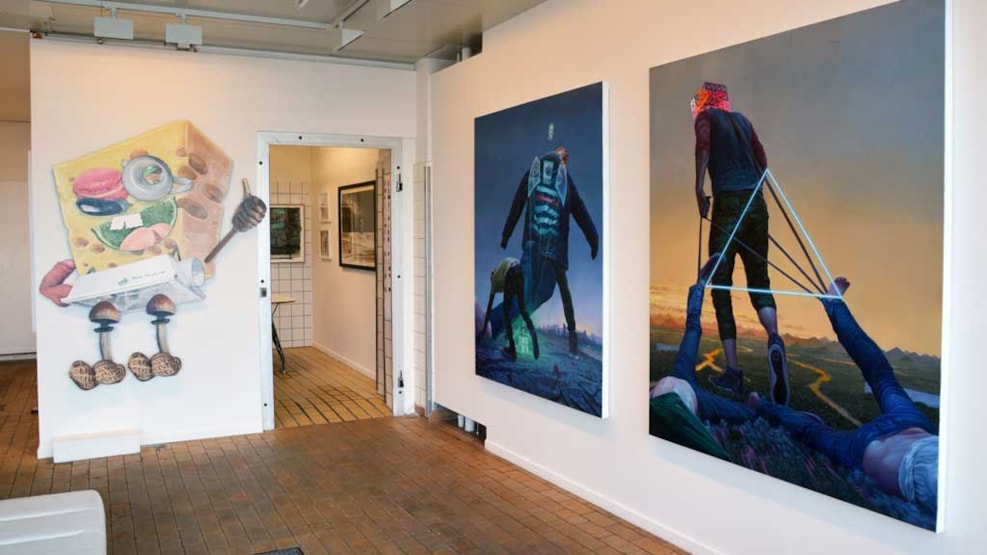 Gallery Poulsen
A major Copenhagen gallery is housed in an abandoned slaughterhouse on the cobbled streets of the brown Meatpacking District. The gallery focuses on artists with a disciplined figurative approach to a variety of media including painting, drawing, sculpture, photography, and printmaking.
Colourful, arresting and vital art space
Amid the vibrant atmosphere of Copenhagen's brown Meatpacking District, you will find an exuberant and colourful art gallery. Gallery Poulsen is located just around the corner from the white Meatpacking District's many meatpackers, restaurants and nightlife.
The gallery currently represents more than 25 international emerging, mid-career, and established artists, primarily of the younger generation. The common denominator for all artists is the use of figurative motifs, great stories and impressive execution.
The gallery itself is on a mission, to "provide a contemplative space for the most adventurous art audience" and does this through its 8-10 solo and group shows hosted annually. The collection is engaging, accessible, and provocative, due in large part to the artists' reimagining of exquisite artistic skills in various art forms.
An art fix before your night out
The gallery's international activity over the last decade has meant its artists are regularly placed in collections worldwide with leading international galleries and institutions. There could be no better way to start a cultural night out in Copenhagen than getting inspired at Gallery Poulsen. Charged on the colourful art you'll be ready to hit the nightlife in the rest of buzzing Kødbyen, just around the corner.