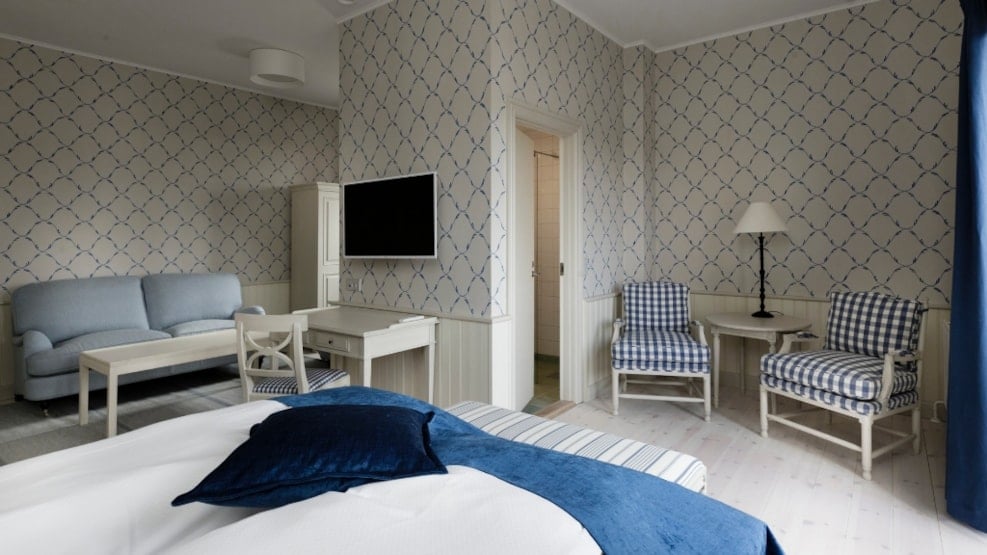 Hotel Bretagne
A classic Danish seaside hotel featuring 23 luxury en suite rooms and suites that takes you back to the golden days when Hornbæk was considered the jewel on the North Zealand Riviera. 
There was a time when Hornbæk was known as 'The city of light', a popular holiday retreat among wealthy citizens looking for some seaside tranquillity and luxurious accommodation. Established in 1939, Hotel Bretagne does its very best to recapture that time, offering up a classic Danish seaside hotel experience. 
The number of rooms has been reduced slightly since its heyday, to not only make all bedrooms ensuite but also make space for some beautiful, spacious deluxe rooms and suites. Today there are 23 beautiful rooms decorated in the best Gustavian style, most offering views of Lake Hornbæk and the sea. 
Reside in timeless style 
During your stay at Hotel Bretagne, enjoy seasonal ingredients in a combination of French and Nordic cuisines in its restaurant and bar, with its wonderful, panoramic view of Lake Hornbæk. Adjacent to the restaurant is the largest of three terraces, from which guests can enjoy dinner and drinks throughout the summer. Just book in advance for either evening or a la carte menu experiences. 
If you've always fancied celebrating by the seaside in elegant surroundings, with exceptional service and exclusivity for your wedding or party, this is the perfect venue. The hotel has various function and conference rooms ideally suited for group activities. Choose from a range of entertainment packages or create your own company or corporate party.  
Hotel Bretagne has the setting, the view and the gastronomic excellence to make your stay a truly fantastic and luxurious experience.