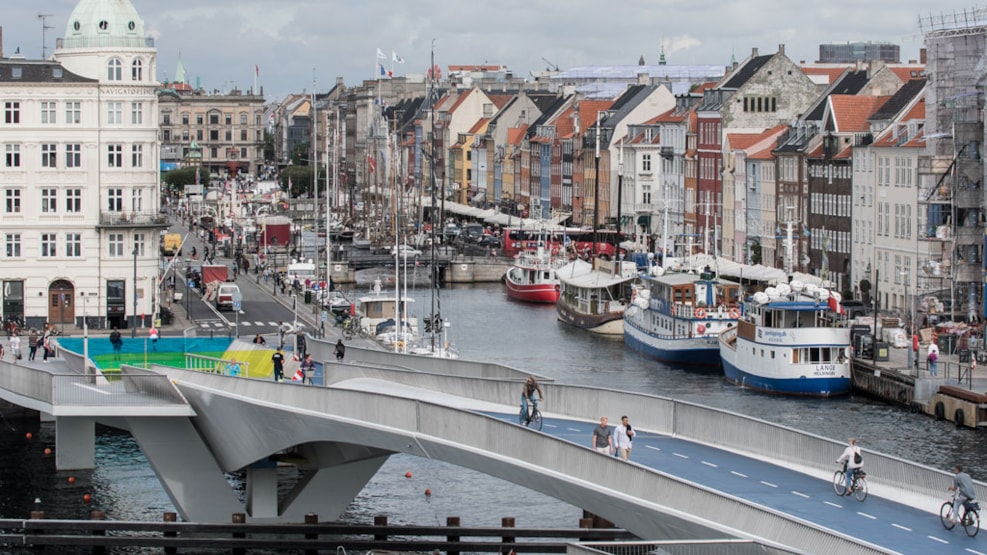 The Inner Harbour Bridge
Pedestrian and bike bridge in Nyhavn, Copenhagen.
Also called The Kissing Bridge, the Inner Harbour Bridge makes it easy to get from Nyhavn to Nordatlantens Brygge by bike or foot. Built in 2016, it's at the heart of the city, with fab harbour views.
Stand on the bridge and watch the yellow harbour bus pass by, along with kayakers, sailing boats and GoBoats, or take a canal tour and slip underneath it as you explore the harbour. The 180-m long bridge was a godsend when it was created to connect these two busy city neighbourhoods, Nyhavn and Christianshavn/Holmen.
No matter which side you come from, make sure to stop at the designated platforms on the bridge to take in the views of the harbour area and down Nyhavn canal.
Fancy a kiss?
The Inner Harbour Bridge is also called "The Kissing Bridge" because when it retracts to let ships pass, and then connects again in a calm, horizontal, sliding move, it's a little like a kiss. It's a rather special design for a harbour bridge unlike the more common vertical lift bridge design on Knippelsbro further down the harbour canal.
The Inner City Bridge is also the final step of the Harbour Circle, a circular route for cyclists and pedestrians to explore and enjoy along Copenhagen's harbour front.