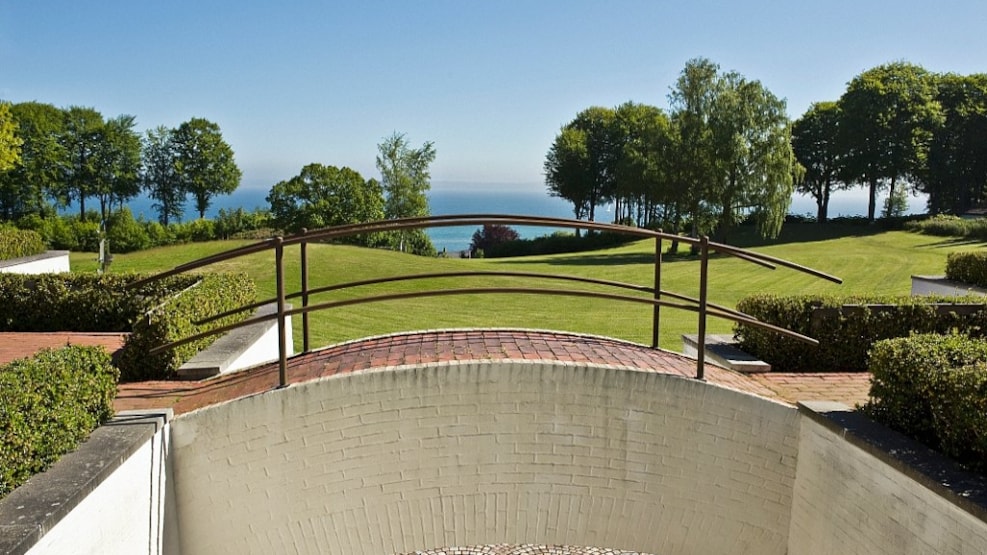 sustainable_experience
Konventum Conference Centre as hotel
Kristian von Hornsleth has decorated the grand piano. Asger Jorn's paintings are hanging in the corridors. When you book a room or a conference at Konventum, you also book access to the art collection of more than 1,000 art works decorating the trade union movement's architecture at the hotel and conference centre. It is almost like living in an art museum.
At Konventum you share your stay with the trade union movement and the Danish artist Asger Jorn 
A hotel with great art
When you stay at Konventum, you wake up to colourful art. You can also explore the great collection inside or the one outside in our park area and enjoy the view over the Sound. The hotel has 259 rooms and is only 3 kilometres from the centre of Elsinore. Here, you can enjoy your vacation or an extended weekend, e.g. with golfing, bicycling, fitness and a sauna. Book your hotel stay at Konventum.
Focus on meetings and conferences
Konventum's great passion is conferences, meetings, courses, training and education. It is a very special feeling to listen to a lecture or participate in a workshop while enjoying the top light from a work of art covering the ceiling and the walls. Here, you will experience conference rooms and lecture rooms designed as an artistic total installation, however, with all the modern facilities. And we have plenty of room: With 5 lecture rooms, 57 conference rooms and 25 alcoves for group work, Konventum can receive from 2 to 250 conference guests. Book your meeting or conference at Konventum.
The largest private art collection in Denmark
When you walk down Konventum's corridors you are greeted by numerous famous artists. And there are plenty of them. The hotel and conference centre in North Zealand has the largest private art collection in Denmark, e.g. counting artworks by Henry Heerup, Asger Jorn, Kurt Trampedach, Per Arnoldi, Lizzie Mallow, and Henning Damm Sørensen. Konventum owns more than 1,000 artworks which include paintings, sculptures and furniture – and you can see them everywhere: In the corridors, premises and in the restaurant.
The centre of Elsinore is just around the corner
In the locality, you find even more art and culture. Only 3 kilometres away you find the wonderful city of Elsinore. In Elsinore, you find charming small streets, prize-winning architecture at M/S Maritime Museum of Denmark, Kronborg Castle and the Culture Yard. 
The former LO-skolen
Konventum was designed by the architects Jarl Heger, Ebbe and Karen Clemmensen in 1958. The ambition of the trade union movement was to share knowledge, learning and social interactions which formed the basis of the project. Here, the workers in Denmark could go to folk high school to develop human-wise and spiritually.
Jørn Utzon won the architectural competition
It was Jørn Utzon who won the architectural competition, but his work on the Sydney Opera House in Australia took all his time and thereby prevented him from realising the task. Therefore, the job was transferred to the second-place winners. The three winners were inspired by Japanese building traditions and Spanish medieval towns which is quite clear when you look at the architecture of Konventum characterised by long corridors, patios and a preference for light.
Practical Information
The rooms of Konventum are equipped with a bed (box mattress), a desk and a chair, a large mirror, radio and television, a hairdryer, an alarm, a flat-screen monitor and free Wi-Fi. The guests get a breakfast buffet and free parking. We have everything from standard single rooms to deluxe rooms with a spa. Please visit Konventum's website.