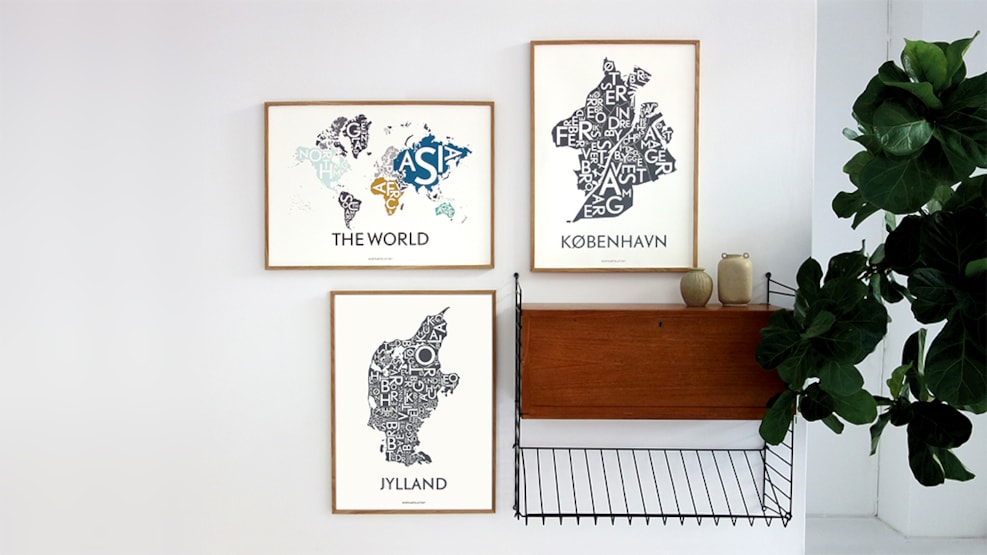 Kortkartellet
Kortkartellet is a Copenhagen based company with a love of aesthetics, typography, design and…. Maps! 
Design addicts from all over the world visit the cosy little shop in the heart of Copenhagen for the ultimate souvenir; a little piece of Danish designed minimalism for their wall. They bring home one of the colourful, simple, quality posters from Kortkartellet.
Whether it be Copenhagen or other Capitals, there is a good chance that Kortkartellet carries your favourite destination in their program of more than 100 Danish and international city posters.
The graphic posters show cities, provinces or countries divided into neighbourhoods, states or regions. Kortkartellet uses their own typography to write the locations – and throw the letters around – on occasion a special attraction or a significant spot in the city is added to the map. 
Kortkartellet constantly designs new posters in inspiring colours, and existing posters will be printed in new colours. At kortkartellet.dk you will also find multicoloured posters in limited editions. The posters and postcards are designed and manufactured in Denmark. 
Drop by and explore the beautifully decorated two-floor shop in the heart of Copenhagen (Niels Hemmingsens gade 6), where the walls have been transformed into mosaics of posters displaying a great mix of international and Danish cities and areas. 
In the cosy little shop, just around the corner from "Strøget" Copenhagen pedestrian street, you will also find a very large selection of locally designed postcards ready to send to your beloved ones or why not frame one and put it on your own wall as an arty and different souvenir from Copenhagen.
Please note that the posters are not proper city maps and should not be used for directions.