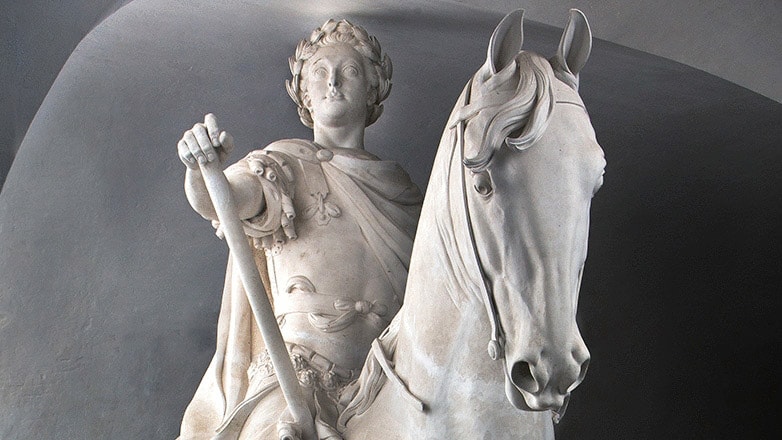 The Lapidarium of Kings
A lapidarium is like a retirement home for sculptures. Come explore sculptures of old at this unique museum.
Have you ever wondered what happens to old sculptures and statues, when they are can longer stand in public squares, royal gardens and palaces? They retire to places like this, The Lapidarium of Kings.
In Copenhagen, you can visit The Lapidarium of the Kings located under the vaulted ceilings of a 400-year-old brewhouse on Slotsholmen island in the heart of Copenhagen.
Here you will be greeted by 300 statues and sculptures gathered from royal gardens, palaces and buildings. Among the treasures is the equestrian statue from the square of the royal palace Amalienborg, which is rumoured to have cost more than the entire palace.
The staging of kings
With international inspiration, not least from France, the kings of Denmark have used statues to symbolise their power for centuries on the facades and in the gardens of their palaces, and in the towns and cities of Denmark, including imposing equestrian statues, beautiful goddesses and bombastic trophies.
Royal palaces and castles like Rosenborg and Amalienborg in Copenhagen, and Fredensborg north of the city, were full of statues and other stone sculptures.
After years exposed to the elements, many of the old statues have fallen into decay and been replaced. Among them, the statue of King Frederik V on horseback in a plaster of Paris version of the French sculptor Saly's equestrian statue from Amalienborg Palace Square – the most expensive statue in Danish history and ranked among the best in the world.
Some of the statues are the size of a human being. Others, that might have seemed small upon a building when seen from the ground, are much bigger when seen "eye to eye".
What is a lapidarium?
Lapis is Latin for stone, so a lapidarium is a collection of stones. Numerous Danish palaces have a lapidarium containing statues, stone fragments and plaster casts considered to be worthy of preservation.
The Lapidarium of Kings covers an area of 4,000 square metres in Christian IV's Brewhouse, which was originally built by Christian IV as a part of Copenhagen's military fortification. Later it functioned as a brewhouse, whose name it still carries.