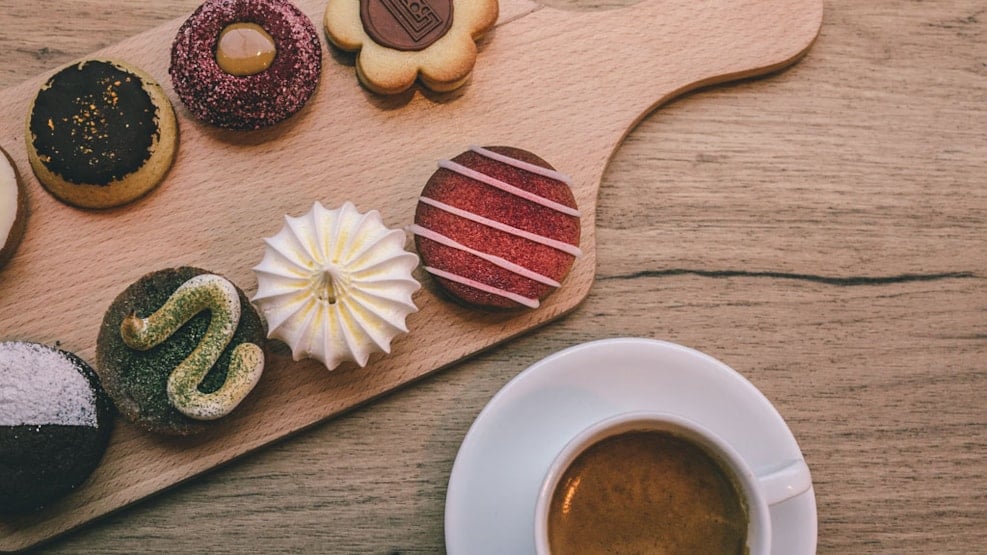 Leckerbaer
Leckerbaer is a gourmet cookie, pastry and coffee shop in the Østerbro district of Copenhagen. The couple behind the sweets are Michelin chefs Jakob Mogensen and Gabi Bär Mogensen.
Leckerbaer in Ryesgade street in Copenhagen tempts you with modern interpretations of Danish cake classics, pastries, New Yorker cookies, French choux and much more.
Behind the cookie and pastry shop are Jacob and Gabi Mogensen, who are experienced chefs with Michelin stars on their shoulders - Jacob has been an assistant chef at both AOC and Alberto K restaurants in Copenhagen.
Leckerbaer is also a café and coffee shop that serves coffee and hot chocolate that you can enjoy with your cookies in the cosy seating area.
Made from scratch every day
Leckerbaer makes everything from scratch and strives for the highest quality and honesty in the baking process. On the way to the shop, you can take a peek into the kitchen, where everything is baked, whipped, filled and flavoured on a daily basis.
Every day there are eight cookies on the counter, each with its own history, taste and appearance. The cookie menu changes according to season, and cookies can be enjoyed as a sweet treat with your coffee or as petit fours after a dinner party.
The gourmet cookies cost DKK 15 each. You can also buy a box of eight, 12 or 16 cookies of your choice. The smallest box costs around DKK 100. In addition to cookies, you can also get cream puffs, cookies, caramels, muesli etc. If you want to bake your own cookies, try the "dough-2-go".