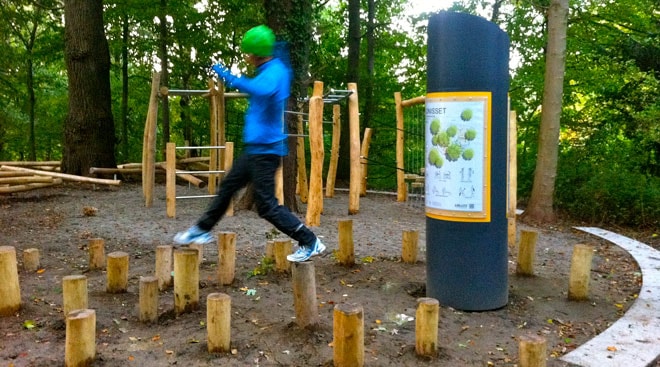 Life and light at Søndermarken
Denmark's first and only interactive running route consists of a system of lights on the fringe of Søndermarken, firmly resolved to pace runners to keep up their self-imposed pace, chosen at one of two start-stanchions. The route takes you by four activity spots that set the stage for creative motion and interactive circuit training, so should you push yourself a tad too hard with your self-imposed running pace, this is the perfect excuse for a pit stop – doing a couple of pull-ups while you catch your breath...
Pacing up the hill
My first acquaintance with the interactive route was with my 3-year-old aboard the baby-jogger that she dismissed about a year ago. Nevertheless, there she sat, eager as my old track-ad-field-coach – pacing me up the hill. "Faster, mom! The next lamp'll light up in a second!!"
Love at first lap
Two laps on the interactive route plus the trip to and from plus circuit training, playing in the monkey bars and tagging at the activity spots, equals two heavenly exhausted young and younger ladies at the end of the day's trip. We will be back!
What: Liv og lys i Søndermarken (Life and light at Søndermarken) - Denmark's first and only interactive running route.
Where: Søndermarken.
When: As often as possible – Søndermarken is open around the clock.
Tip: Interactive route instructions on the pace stanchions are in Danish only. Ask around. Most Danes understand and speak English pretty well – and would be happy to help. If no one around, here's what to do:
1. Press the arrow to select which direction you'll run.
2. When your direction lights up, press your pace from 4 min/km – 12 min/km. You must press pace while direction lights up.
3. Wait for the first lamp to light up.
4. Run Forest, run!