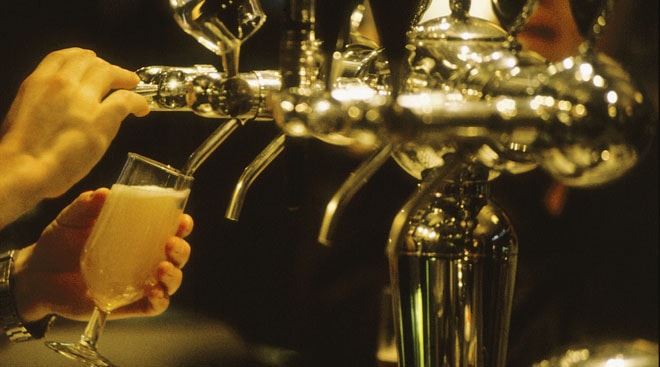 Mesteren & Lærlingen
One of the Meatpacking District's oldest and cosiest drinking holes. Sit up close with locals and enjoy draft beer and down-to-earth food, with a daily programme of music and DJs open all week except Sundays.  
Drink and be merry – bodega style
The first thing you'll notice about Mesteren & Lærlingen is its cosy up-close-and-personal size. If you want to meet the locals in Vesterbro's Meatpacking District, this is the place to do it. The English translation is "master and apprentice", presumably because this was the place for the butchers of the Meatpacking District to come for an after-work drink along with their trainees. That, of course, was when the area was more about meat production than nightlife. This kind of authenticity can still be felt in the unpretentious atmosphere, reasonable prices and the warm, friendly vibe where you are invited to "love the place as much as we do and most importantly – make it your own".
All about the music
In recent years this bodega has placed more of a focus on music. Check out their Facebook page and you'll find a monthly programme that extends to most days, especially those leading up to the weekend. The chatty, fun tone used to promote the music played matches the local feeling of the place that visitors are invited to engage with.
In the summer months, and even the winter months (this is Denmark), people spill out onto tables and benches and enjoy bar food like burgers and fries and perhaps hearty portions of "moule frites". With the welcoming, local vibe, well curated music and mix of clientele, this is a little gem of a bar that's part of Kødbyen's history and well worth a visit. Be warned, smoking is allowed inside as the owners cherish the authentic bodega atmosphere.