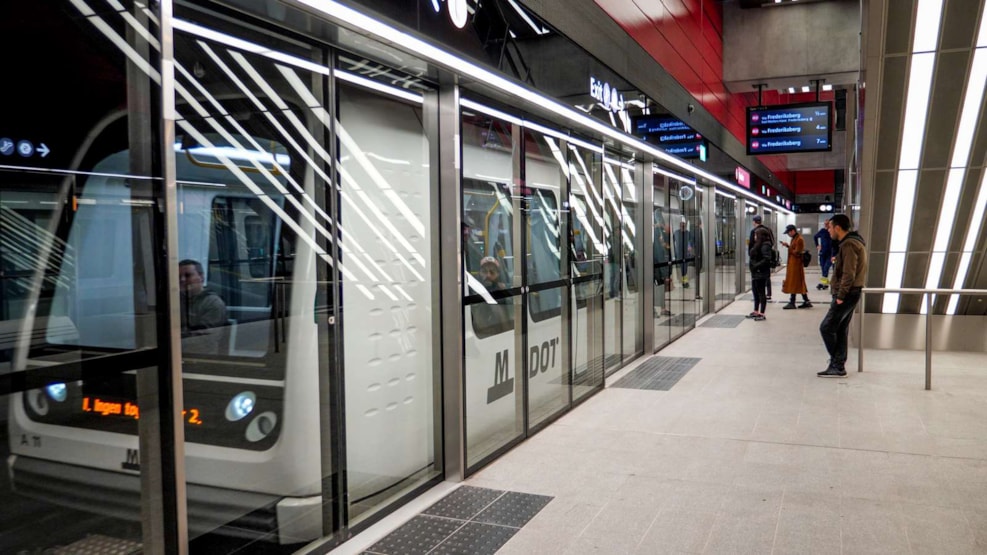 The Metro
You can use Copenhagen's 4 metro lines 24 hours a day, 7 days a week.
Getting to Copenhagen airport from the city center (or vice versa) is quick, cheap and easy if you go by metro. 12 minutes is all it takes from Kongens Nytorv station.
In the autumn of 2019, 17 brand new stations on a new metro line were added to the metro. Known as line M3, "The Circle Line (or "Cityringen" in Danish) connects the neighborhoods of Vesterbro, Frederiksberg, Nørrebro, Østerbro and the city center. This new addition to the metro system will make it even easier to explore the different neighborhoods of Copenhagen. Check out all metro lines with the Metro-line map.
Metro tickets and prices
When using public transportation in Copenhagen, all members of the family must have a valid ticket. You can read more about the various ticket types and their prices here. There is ongoing ticket control, and both Copenhageners and tourists are responsible for having the correct tickets. If you and your family are traveling without a valid ticket or with an insufficient number of tickets, you can all be individually fined. If you find that you have wrongfully been given a fare evasion ticket, you can file an online complaint to Metro's customer service. Sometimes, they are willing to cancel or reduce some or all fare evasion tickets issued to tourist families.
How often does the metro depart?
On all three metro lines you can expect to wait a maximum of 4 minutes during rush hour, and 3-6 minutes outside rush hour and during the weekends.
Friday and Saturday night (after 01:00) trains arrive with a 7-15 minutes interval and a 20 minutes interval after midnight on weekdays (Sunday through Thursday).
Please note that maintenance of the rails may occur during the night, which can result in a slightly longer journey. The maintenance is between 00:45-01:25 and again between 04:15-04:45.
Need help planning your trip?
If you're struggling to figure out the best way to get from A to B, you can plan your trip with a few, easy clicks at Journey Planner. Simple type in your point of departure (address, station, or bus stop) together with your destination and time of departure. Easy.