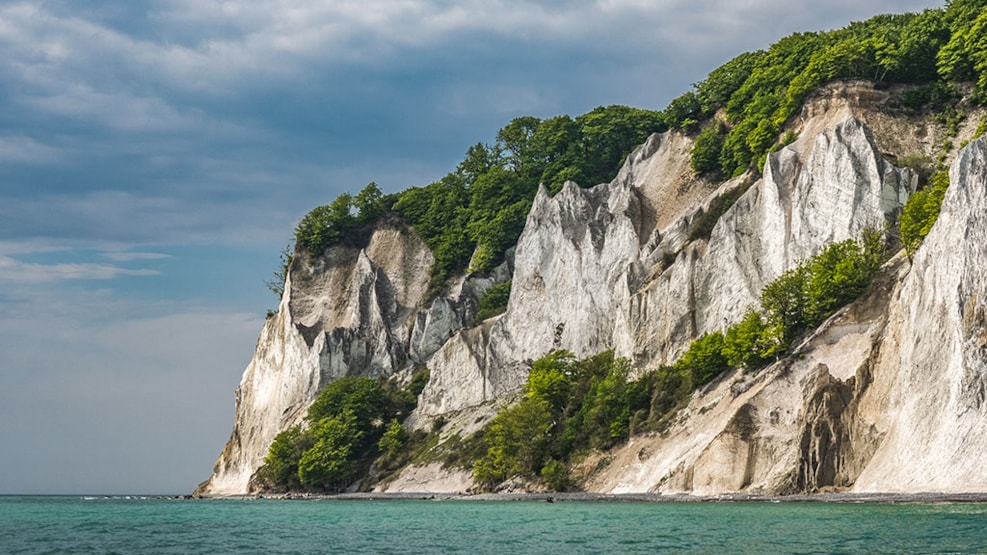 Møns Klint
Please be aware of limited access and temporary closures due to the storm surge on October 20-21, 2023. Find more information on the respective websites or social media.
We are continuously updating the website
Møns Klint is a great place for anyone who loves nature
The cliff rises 128 meters above sea level and the coastline is approx. 7 km long. The sight of the cliff testifies to the enormous forces of nature that have created Denmark.
Here nature is unique, and you can find both plants and animals that do not exist elsewhere in Denmark. The high calcium content found in the soil is the reason why there are about 20 species of wild orchids in the area.
The cliff is very dynamic and is influenced by both wind and weather, which also means that it is in an eternal breakdown. This degradation gives the water in front of the cliff a distinctive blue-green color, and it also contains exciting fossils from the past wildlife.
During the winter and spring periods, there is the greatest likelihood of landslides on the cliff, but they can come all year round. It is both by loose chalk, and by large amounts of rainwater that happens to landslides, and where both clay, mud and chalk are sent to the sea. You experience it every year in smaller quantities and sometimes there are larger avalanches. The biggest in recent times occurred in 2007 when the ornament known as Great Speech fell into the water. It is believed that on average, approx. 2-4 cm. of the cliff a year, and that the whole of Høje Møn is eroded away in approx. 50,000 years
The staircase
It is possible to go down the stairscase to the beach, from where you can see the Cliff from the water edge and really sense the height. The Maglevand stairs at Geocenter Møns Klint is the most used staircase with 497 steps from the top of the cliff down to the beach. Does that sound like a long trip? Luckily you have the opportunity to take small breaks along the way, from where you can enjoy the view over both the forest and the cliff.
If you do not feel ready for a long staircase, then there is also a boardwalk where everyone can enjoy the fantastic view of the cliff!
Learn more about Klinten
At GeoCenter Møns Klint, you can get the whole story about how the cliff came into being.
To take best care of nature, we recommend that you park your car either at GeoCenter Møns Klint or Liselund Castle and walk from there.
If you arrive by car, there is a payment fee on the parking lot at GeoCenter Møns Klint.