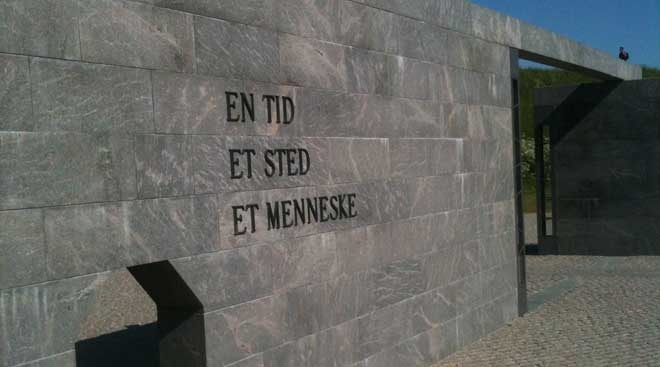 Monument for Denmark's International Effort since 1948
The Monument for Denmark's International Effort Since 1948 by artist Finn Reinbothe was erected by the Danish people and inaugurated on Flag Day 5 September 2011.

You will find the monument in the Citadel of Copenhagen. Thus there is public access to the monument. It expresses the acknowledgement of the contributions made by thousands of deployed Danes in international missions since 1948.

Three spaces

Finn Reinbothe's monument consists of three spaces, defined by granite-covered walls with build-in lighting. One wall displays the inscription En tid – Et sted – Et menneske - translated into English: One time – One place – One human.

Another space is for the currently deployed personnel – with an eternal flame and inscriptions with names of the conflict and catastrophe areas.

The last one is a space of commemoration for the fallen Danish soldiers.

Names of the fallen

One for the memory and reflection of the bereaved – with inscriptions of the names of the fallen. The first name of a fallen dates back to 1956 and the last one no less than a couple of months old, and proaly with more to come.

Here you will find the names of those who lost their lives in conflicts or wars in places such as Cyprus, Kosovo, Iraq and Afghanistan.

Please be aware that this is a memorial place and should be visited with respect.