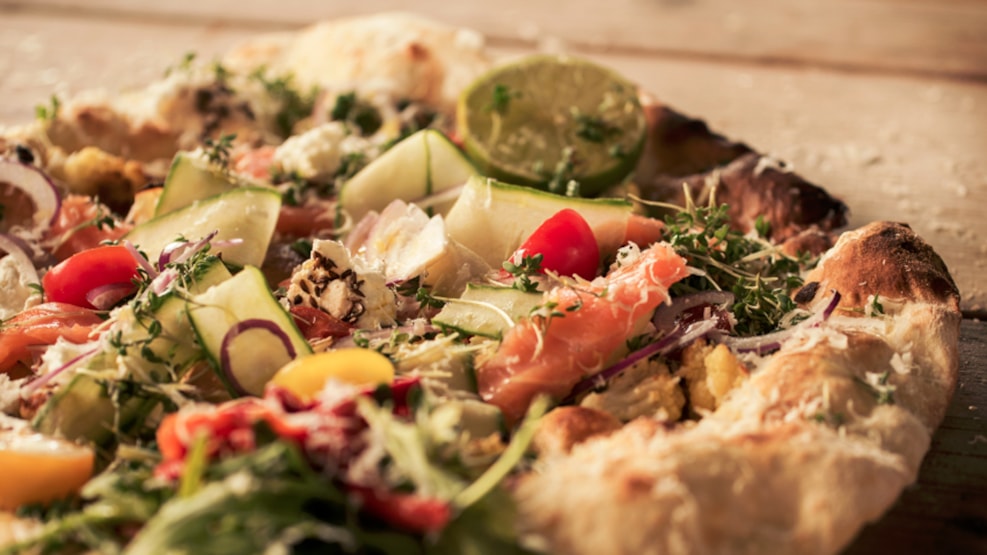 Neighbourhood
Neighbourhood in Copenhagen's hip Vesterbro district is an all organic gourmet pizza and cocktail bar and local hang-out, where vinyl tunes fill the air, and community table seating makes it impossible not to meet your neighbours.
The pizzas at Neighbourhood cost DKK 135 and are modern interpretations of the classic Italian pizza. They are lighter, crispier, greener, organic and even more beautiful. A completely different pizza experience than you are probably used to.
The amount of pizza dough is less than half of a traditional pizza and most toppings are non-cooked fresh salads, fresh, marinated or pickled vegetables, fresh cheeses, fresh pestos, herbs and various fresh, cured, smoked or light roasted sea food or meats.
Pizza and cocktails
Neighbourhood's cocktails cost DKK 85 and are made from organic fine spirits shaken with freshly squeezed organic fruits, herbs and vegetables and customised to the menu of pizzas and salads. The same goes for the home-made juices.
The people behind Neighbourhood guarantee that whatever they serve you, it is at least 90% organic (equal to the regulatory requirements for an organic restaurant) and either homemade by them or sourced from small local organic farms, breweries, coffee-roasters and wine producers.
The food and drinks are served at large long tables, where it is impossible not to socialise with the people around you. The idea is to make you feel part of the local community, just like any good neighbour.
Neighbourhood is very popular and some wait must be expected, especially during weekends. It is not possible to book a table, so come early, and before you get really hungry. Luckily, you can sip a delicious cocktail while you wait to be seated.