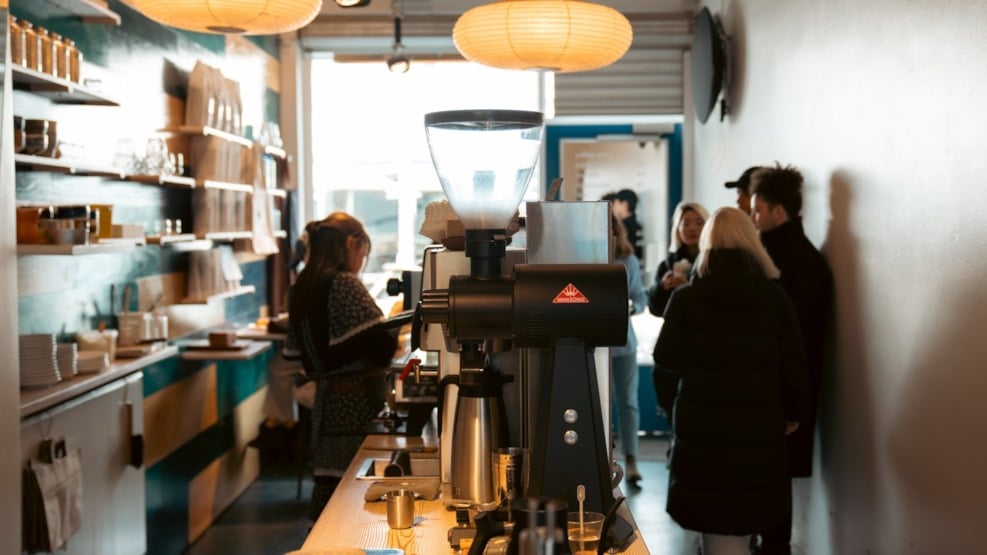 Prolog Coffee Bar
Only a few coffee bars take the Copenhagen coffee scene to the next level, and Prolog is one of those places. Roastery, café and all-time awesome hang-out in the heart of the bustling Meatpacking District on Vesterbro.
On a sunny day, you'll see people scattered out on the sidewalk in front of Prolog, sipping on caps and filter brews to die for. Inside the bar is limited seating, whereas most space is dedicated to brewing some of the best coffee in town.
Prolog roasts their own beans out on Refshaleøen, where it's only the beans of the highest quality possible that make it into the roaster, let alone the cups. The roasting style is leaning towards the lighter spectrum, where taste notes such as berries, nuts and citrus are very much present. The roster of beans on the menu changes often and with the seasons, which make it an exciting endeavour as a coffee lover to step into the tiny shop in the Meatpacking District.
The coffee is served along with masterly made croissants and pastries from Il Buco on Islands Brygge, and the occasional DIY marshmallow setup. Jonas Gehl, who is one of the owners of Prolog, is the Danish barista champion of 2018 and 2019, so you're in good hands, to say the least.
Prolog has also expanded and moved to a new location at Randersgade 45 in Østerbro, so you'll have plenty of opportunities to get a cup of Prolog coffee!