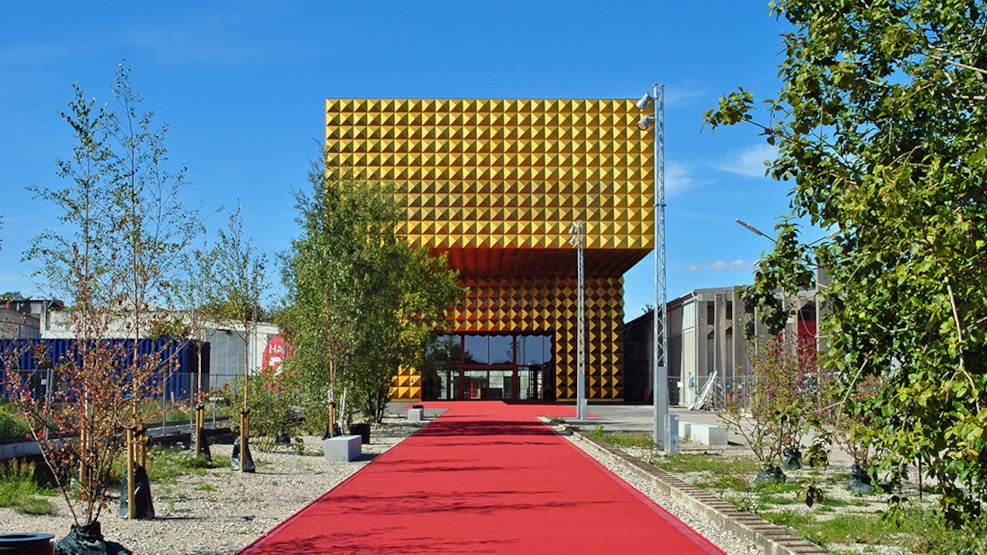 RAGNAROCK - Museum for pop, rock and youth culture
A "ROCKING" MUSEUM EXPERIENCE!
See, hear and feel your way through the history of rhythmic music from 1950s rock'n'roll, through1980s pop culture to today's wild rhythms - and get an idea of ​​tomorrow's music scene.
But RAGNAROCK is more than a roller coaster ride in the colorful history of music. First and foremost you get the story of roaring youth generations that through different times creates its own culture, communicating globally through music and have huge impact on society.
RAGNAROCK is also an exciting Exploratorium. Participate in the world's largest choir, dance our way through history and find your favorite song.
World-class architecture
The museum is located in Roskildes 'Rock City' - the district Musicon, just a stone's throw from the famous Roskilde Festival's permanent place ... where else? Stararchitects from Dutch MVRDV and Danish COBE are the creative minds behind RAGNAROCKS iconic golden building. The daring architecture both externally and internally emphasizes the history and atmosphere that the museum conveys
Café, store and events
RAGNAROCK presents continuously through the year many interesting events - from concerts, films and children's activities to lectures, exhibitions and corporate events.
If you need a break in the experience RAGNAROCK offers the opportunity to relax in the Museum Café. Here you find a fine selection of hot and cold dishes with focus on Danish products and solid gastronomic craftsmanship. You can also explore the museum store, with a selection of many unique items, including cool T-shirts, hoodies, mugs gold, leather belts, books, postcards and many other things. As the only shop in Danmark we sell the original Roskilde Festival Posters in limited editions and reprints.
So get ready for an amazing journey into the universe of music. It is anything but boring!
Free entrance to the museum shop and café. Tickets for the exhibition and events can be purchased in the museum shop.
RAGNAROCK is part of the Museumorganization ROMU - www.romu.dk