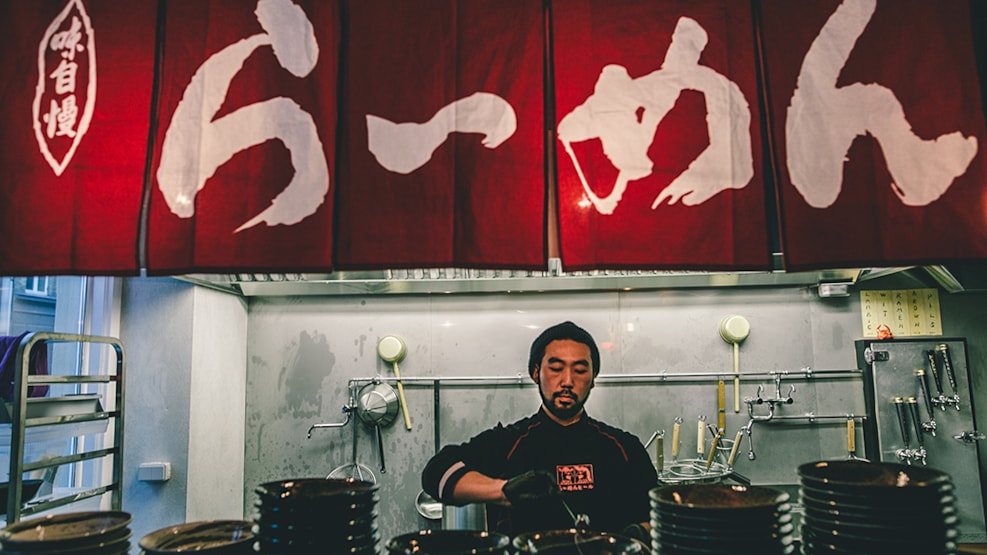 Ramen to Bíiru
Although it may sound unlikely, Japanese noodle soup and Danish craft beer make up the perfect love story.
Mikkeller, currently one of the world's best-known specialty beer brands and originally based in Copenhagen, has long had a passion for pairing beer with food experiences, and their Japanese-Danish food concept Ramen to Bíiru is no exception. Here they combine all the best of traditional Japanese noodle soup with exciting specialty beers.
Ramen To Bíiru opened their first restaurant in Nørrebro in 2015, and has since expanded to 6 restaurants in the Copenhagen area.
The menu consists of a wide selection of both classic Japanese ramen and original Ramen To Bíiru dishes, which you can combine with some of the best beers in the world.
Japanese cultural heritage
Traditional Japanese ramen is a historic dish, and each ramen chef has their own secret unique recipe that they carefully guard and develop. To preserve this authentic tradition, they teamed up with Japanese chef Takuro Otani.
Takuro works within the three main categories of ramen: Shio, Shoyu and Miso. These three categories cover a spectrum of flavors ranging from the lightest (shio) to the richest (miso). All are topped with homemade noodles and a selection of specially selected, high-quality toppings.
To accompany the flavorful dishes, Ramen To Bíiru has a wide selection of Mikkeller beers on tap and in cans.