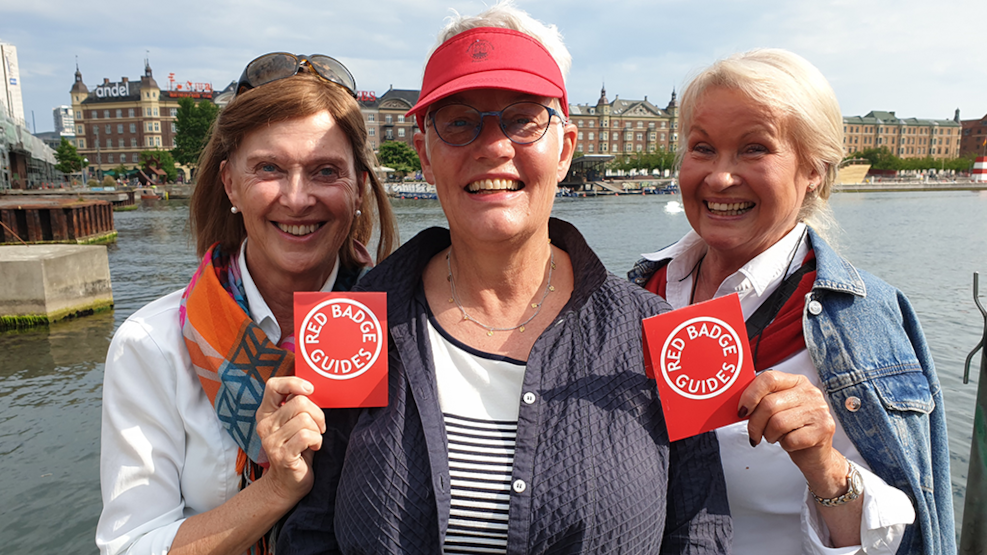 Red Badge Guides
Walking Tours in and around the city of Copenhagen.
Join Red Badge Guides for a "hyggelig" public guided walking tour through Copenhagen's medieval city center. Get a historic overview of the city from the early settlement days to being the capital of the Kingdom of Denmark. Hear the tales of glorious and not so glorious kings, merchants, and citizens through the important eras.
Public tours: Every Friday and every Saturday, from 10:00 – ca. 12:00 "Copenhagen Classic Walking Tour" in English. Meeting point: Copenhagen Visitor Service, Vesterbrogade 4, in the Axelborg Building. Tour ends at the royal residence, Amalienborg Palace. Fee: DKK 150,- per person. Children are at half price.
The 2022 season for public tours runs from May 6th through October 1st.
Red Badge Guides are on call throughout the year for creating your private tailormade tour. Choose a specific location, theme, or subject, or select from a variety of tours and themes, e.g.: The 17th-century quaint Nyboder neighborhood and the citadel "Kastellet". Hear about royalty, nobility, and craftsmen in the magnificent rococo style Frederiksstaden and Amalienborg Palace. Or: feel the warmth of charming 17th-century Christianshavn located over the harbor bridges. Or: Experience the center of power in Denmark at Slotsholmen where the Danish parliament and Christiansborg Palace are located. Red Badge Guides offer in-depth tours in this very special environment. And more.
Red Badge Guides guide in English, German and Danish