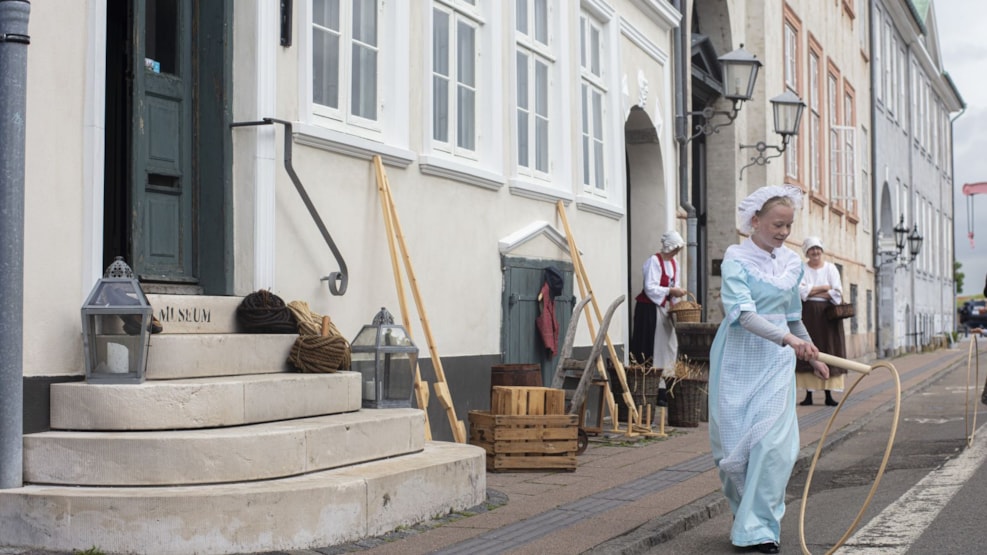 Skibsklarerergården - The Shipping Agent's House
Step 200 years back in time in Skibsklarerergården - The Shipbroker's house and office - the best-preserved shipping agent's office and suppliers shop in Elsinore dating back to the years of the Sound Tolls.
The building was originally constructed in the 16th century, but the present appearance has remained unchanged since the 1780s. The Danish National Museum restored the house thoroughly in 1993, and today the house is part of Elsinore Municipalities Museums. 
Smell of tar and rigging
As a guest at the museum, you will meet people dressed in historic style inside and in front of the house. They act as a character from around year 1810 and interact with you, tell stories and have a variety of activities that engages you and your family with history. 
When stepping into the ships' supply store on the ground floor, you are greeted by the smell of tar and ropes. Here you can buy everything that could tempt a sailor in times gone by: Groceries, spices, wine, ships' beer, Dutch genever and local spirits, as well as the famous Elsinore cap, canvas, sea charts and other necessities.  "Sale for ships captains" was founded by merchant Christian Simmelkier in 1809, and the shop
The Skippers' room and Contoir
Next to the supply store, you see the Skippers' room where seamen could partake of a simple meal and a dram. In the "contoir" you find the big four-person writing desk, exactly as you would find it in the middle of the 1800s. 
The Skippers' lodging
On the top floor, you find the skippers' lodging where seamen could overnight in case of extended business or changing weather.
Guided tour at the museum or a historic city walk.
At special dates, you can join guides tours at the museum. You can always book a guided tour both inside the museum and outside in the beautiful historic city.
The guide is always dressed in historic style from 1810
Entrance fee: Free for children and adults: 60 kr.
Groups: Group ticket: 50 kr. (at least 10 persons)