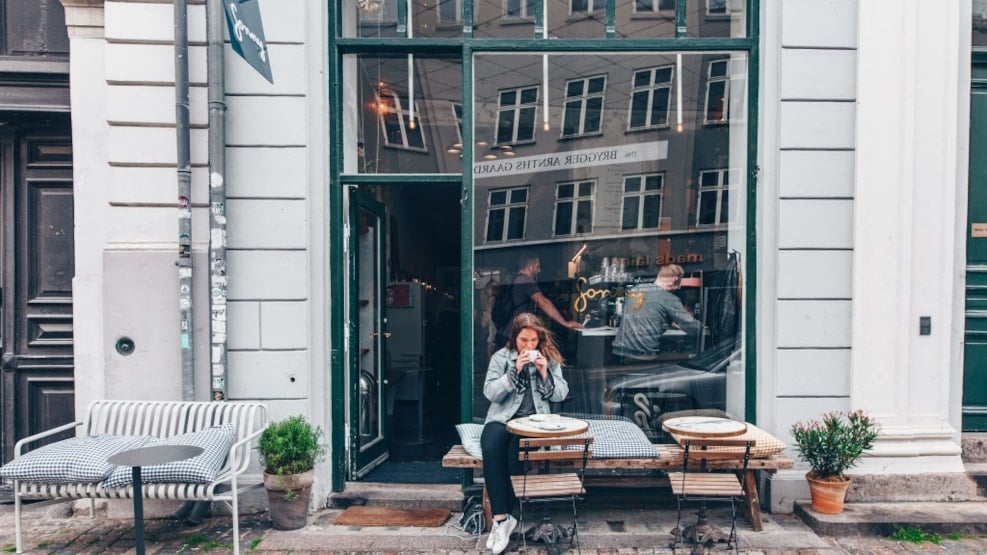 Sonny
Get your coffee with a touch of French finesse and Copenhagen coolness.
At the beginning of 2017, a new and trendy coffee shop found its way to Copenhagen's old streets in the city centre. Sonny, it's called, and the café is run by the young couple Sara and David. Though they just recently opened, the idea of Sonny goes way back – it took its first roots at Coutume, one of Paris' high-end coffee bars, where David used to work as a barista, serving the picky, Parisian coffee lovers.
Besides a newfound passion for coffee, David obviously brought many other inspirations home from Paris – the entire café has a cosy, French vibe, from the miniature version of The Eiffel Tower to the beautiful glass ceiling and blue-striped pillows.
Coffee is Sonny's main attraction, but it's not their only speciality. David is also a trained sommelier, and he points out that coffee and wine are very alike when it comes to the selection process  –  whether it's about grapes or beans, fermenting or roasting. With his explanation, the many wine glasses hanging over the café counter seem perfectly plausible, even though you're standing in a coffee shop.
In good weather, they open the cafés small backyard as well, where you can kick back and enjoy your break in Copenhagen with an excellent cup of coffee. It is also possible to enjoy whatever your heart desires at their location on Frederiksberg Allé 12 in Frederiksberg. Enjoy!