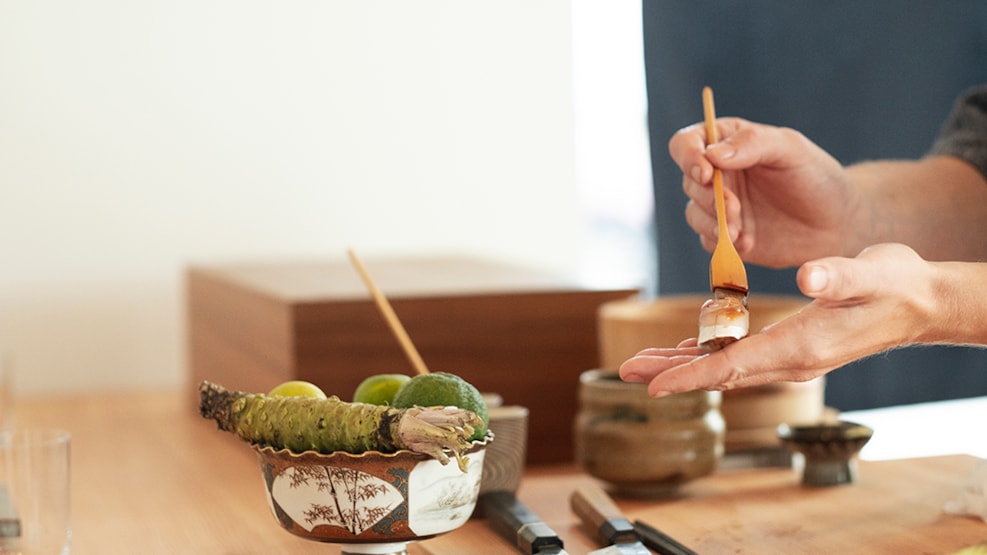 Sushi Anaba
Sushi Anaba creates an authentic, Japanese experience inviting you to taste one of the purest forms of sushi: the traditional edomae.
Not many people can say, they've had a true authentic, Japanese sushi experience. At least not in Copenhagen. Even though sushi restaurants have been submersing in the city throughout the last 10 years, we haven't had a place like Sushi Anabe. Until now. Head chef Mads Battefeld himself has traveled to Japan to learn the noble artform of sushi, and now he takes us on a journey.
He's taught as a sushi chef from some of the best restaurants in Japan.  He creates an intimate, luxurious experience for a few lucky sushi-lovers, and as tradition states he's preparing the sushi among his guests, standing behind a counter in the middle of the room. The restaurant isn't spacious, with room for only 8 guests at a time, and two seating per night.
The menu is based on locally and sustainable caught fish and shellfish, and Japanese imported ingredients. Mads Battefeld works from the tradition of Edomae, where the four elements are key to the purest form of sushi. It's all about the rice, the fish, the soy and the wasabi. Nothing more, nothing less. Besides the option of rice wine pairing of course. It's all about precision of cooking the rice, cutting the fish and the dose of soy and wasabi. A balance Sushi Anaba has travelled far to master