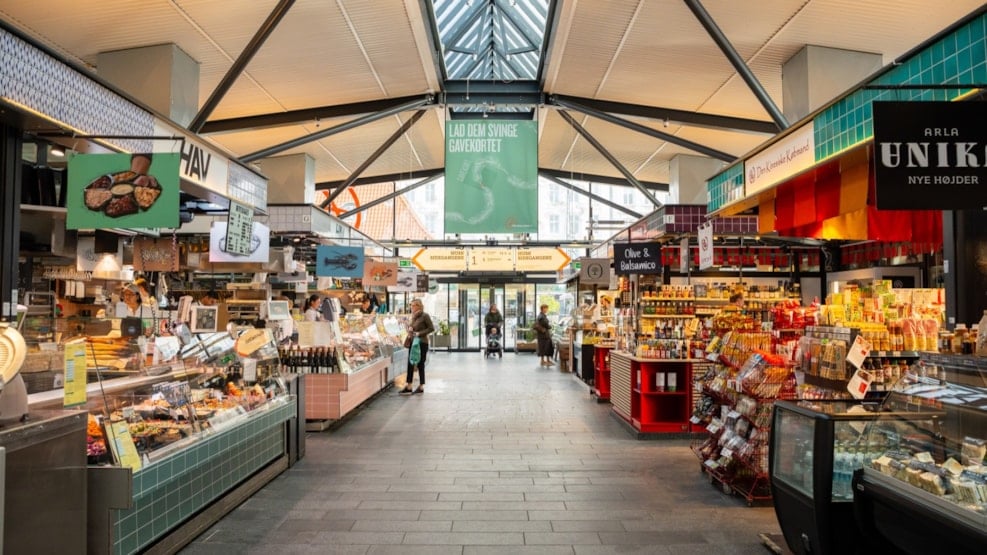 Torvehallerne
Torvehallerne is one of Copenhagen's gems for locals and tourists alike. You can find speciality goods, fresh vegetables and exquisite little food bars where you can get specialities from all over the world.
From the moment you enter Torvehallerne, you're immersed in the atmosphere. Out front, you can already get a sense of what awaits you: there are vegetable stands, flower shops, food carts, seating and much more. You'll also find a lot of people chasing the sun wall with their purchased goodies, no matter the season.
When you step into one of the two market halls, the scent of different corners of the world hits you. Side by side are small shops selling kitchen and baking tools, speciality shops selling vegan cream puffs, sourdough pastries, UNIKA cheese, seafood and more, and small food stalls serving exquisite specialities such as Spanish tapas, Jian bing crepes, oysters, open sandwiches and porridge, just to name a few.
The stalls in Torvehallerne are known for their high quality, which is predominantly sustainable and organic. There are also many stalls in there that are small independent businesses that are involved in the whole process. You can, therefore expect extremely high quality, whether you're buying items to take home and prepare yourself, food to eat in the halls, or ready-made food to go.
Torvehallerne is located right next to Nørreport St. so it couldn't be more central. Although you don't necessarily have to buy or eat anything, we recommend simply strolling through the two halls and soaking up the atmosphere.